Back to Events & Publications
Published: 2022 October 20
SBI Continues to Win International Recognition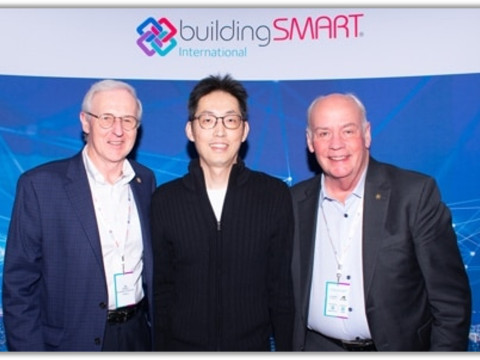 bSI Interim CEO Ian Howell (left), SBI Associate Director Dr. Min Song (middle), and bSI Chairman Patrick MacLeamy (right) at the buildingSMART International (bSI) Awards 2022
Last month at the buildingSMART International Summit in Montreal, the SBI-lead project "bSI Information Delivery Specification (IDS) for an integrated openBIM® and openGIS Platform" was awarded a Special Mention.
Dr. Min Song of SBI presented this ground-breaking work that achieved forward-thinking asset management objectives for a major government land management department, and advanced development of a globally-recognized information standard critical to the built environment industry.
The project features advanced use of Information Delivery Specification (IDS) and integration of openBIM® and openGIS to efficiently manage model/digital twin data while reducing risk, cost, and labor. It fills a critical gap in process and implementation knowledge linking openBIM® and openGIS for very large, highly-detailed model sets.
Check Out the 2-min Video
Special thanks to the Hong Kong Lands Department & Architectural Services Department for your sponsorship, trust, guidance, support, and collaboration!
 
And a BIG shoutout to our partners BIM Base, BIM Supporters Group, deBIMspecialist, Future Insight Group and Simplebim!