We are Strategic Building Innovation • bimSCORE -- Your GPS for Success & Satisfaction.
As Advisor to Agencies and Economies, we develop roadmaps, policies, educational resources, and performance indicators to promote industry adoption of proven innovation.
As Partner to Owners and Stakeholders, we foster collaboration, define value propositions and performance targets, benchmark and track achievements.
As Domain Expert to Enterprises and Project Teams, we evaluate business and technology environments, mitigate risk and optimize benefits from innovation.
bimSCORE

•

facilitySCORE

•

teamingSCORE
ADVICE

•

BENCHMARK

•

EVALUATE
Latest News
The Fifth International Technical Symposium on the Applications of BIM Technology in Design, Construction and Real Estate Enterprise Collaborative Work (Oct 29-31, 2018)
Invited by China Academy of Building Research, Dr. Kam delivered a presentation titled "Insights and Experiences from Global BIM Implementation and Smart City Development – Hype vs. Value" during the event.

During the presentation, Dr. Kam shared more than 20 years' global and industry experiences and knowledge. From management science perspective, he introduced BIM maturity evaluation framework developed by his team, and demonstrated how BIM can truly enable effective collaboration among multiple project stakeholders and realize value increase through the whole lifecycle of projects with different dimensions. He also illustrated how to measure the performance of smart city with support of BIM. Furthermore, Dr. Kam shared best practices of economies such as Asia-Pacific Economic Cooperation, China, UK, USA, Singapore and HK to inspire the audience on how to further boost smart city development.
Lean Construction Institute (LCI) Congress 2018, Orlando, USA (October 18, 2018)
Dr. Calvin Kam presented at LCI Congress 2018.
Lean construction relies heavily on quantitative and timely feedback to inform project planning and decision making. During the presentation, Calvin shared his team's applied research on 600+ performance indicators used by industry professionals and a set of 10 key performance indicators (KPIs) for global benchmarking. These professionals come from major AEC organizations in the US, Europe, and Asia, which include general contractors, owners, government agencies, and designers. Together they have reported 500+ unique metrics being used in their respective projects, many of which are tracking comparable project attributes in different ways. To address the industry's need for benchmarking project performance within and across projects, this research studies key performance indicators that are readily applicable across projects and can help organizations identify continuous opportunities based on well-established industry benchmarks.
BIMForum, Las Vegas, USA (September 24-26, 2018)
Our Senior Director Mr. Tony Rinella delivered a presentation titled Standardize Virtual Design and Construction Performance Metrics and Key Performance Indicators at BIMForum on September 25th.
The presentation aims to share our insights into the development of Performance Metrics and Key Performance Indicators (KPI) that helps manage VDC implementation in organizations. The goal is to establish a performance metrics framework that assists managers to identify key attributes of managing VDC, and how to adopt these metrics for sustainable development.

For detailed agenda and relevant information of this event, please refer to the webpage: http://meetings.agc.org/bimforum/agenda/
GLOBAL ENGINEERING TECH FORUM 2018, South Korea (September 20-21, 2018)
Upon invitation, Dr. Calvin Kam delivered a speech at the GLOBAL ENGINEERING TECH FORUM 2018 in South Korea on behalf of SBI team. His presentation title is Smarter Design, Construction & Operation for Smarter Cities: Global Trends & Insights.
Furthermore, Dr. Kam shared a decade of research and applications of bimSCORE — a holistic framework for evaluating the interrelationship among smart design, construction, operation and smart cities used to measure the level and impact of innovative and industrialized construction. He elaborated on the roles our industry can play to further the Smart City movement and lead our industry to confidently embrace beneficial disruptive innovations.
MOSTRA XCHANGE SEMINAR, Singapore (September 5-7, 2018)
SBI's Senior Director Mr. Tony Rinella delivered a presentation titled Augmented Reality (AR) for the Construction Industry during Mostra Xchange Seminar in Singapore on September 6th, 2018. The event was organized by Reed Exhibitions, Strategic Partners included Building Construction Authority (BCA) and Singapore Green Building Council.
Mr. Rinella shared a variety of vivid examples to demonstrate the key differences between Virtual Reality (VR) and Augmented Reality (AR), the development of AR, and how exactly AR technologies can bring true value to the construction industry in the areas of design process, on-site management, building maintenance, facility operations management, etc.
MODERN METHODS OF CONSTRUCTION: 7th Annual Modular & Precast Construction, Malaysia (July 24-26, 2018)
On July 24th 2018, Mr. Dickson Mak participated and delivered a presentation at the 7th Annual Modular & Precast Construction on behalf of SBI team. His presentation title is Beyond Modelling: Acknowledging communication as a crucial part to 5D BIM framework.
During the session, Dickson illustrated the value of 5D BIM beyond cost and quantity considerations, and how 5D BIM implementation can benefit a project team throughout whole project lifecycle, to demonstrate how to manage the timing, responsibilities

and

reliability of the model creation process through a systematic modelling planning process with enhanced communication and elaborate how 5D BIM should be utilized for resolving issues, identifying hidden risks, and making better decisions to optimize project construction performance.
AEC Next Technology Expo and Conference 2018, USA (June 5-7, 2018)
SBI participated and delivered two presentations at AEC Next Technology Expo and Conference this year. Presentation topics will be PROJECT, FINANCIAL & CONSTRUCTION MANAGEMENT – DECISION MANAGEMENT and FACILITY, ASSET & LIFE-CYCLE MANAGEMENT AND VDC ROADMAPS FOR OWNERS
During the second session, SBI elaborated processes for clearly specifying facility data requirements for handover and aligning these with facility maintenance needs, Level of Development (LOD) and

data requirements for design, construction, and operation phases, project and organization evaluation to gather best practices and opportunities for improvement, uphold teams to BIM commitments, and inform prequalification requirements, and then to identify low investment, high benefit BIM uses that can be implemented by a project owner.
Board, SAC & International Council meetings, Washington D.C. (May 22-24, 2018)
SBI was invited to join the Board, SAC & International Council meetings held by buildingSMART International in Washington D.C. During the event, SBI gave a presentation and facilitated an interactive session with the audience to share and explore ideas on how to make good buildingSMART Chapters, what actions and conditions improve performance, and key measurement metrics.
Building Information Modelling (BIM) in practice: Global trends, New Zealand (April 28, 2018)
Dr. Calvin Kam was invited to participate in the Continuing Professional Development (CPD) course regarding BIM in practice organized by Dr. Julian Lee in Auckland. During the session, Calvin delivered a speech with regard to the global trends and development of BIM, Management Science in BIM Adoption and some more relevant topics.
Meeting with buildingSMART Australasia team, Autralia (April 25, 2018)
Invited by Mr. John Mitchell, who is the chairman of buildingSMART Australasia Chapter, Dr. Calvin Kam had a meeting with John and his team in Sydney to share his insights on Performance Metrics and KPI for buildingSMART, Management Science in BIM Adoption, Owner-Driven Innovation, Scalable & Standardized Performance Metrics and Meeting Efficiency & Effectiveness. He also responded to the questions from the audience.
International Summit, Paris France (March 26-29, 2018)
SBI was invited to join the international summit held by buildingSMART International in Paris. During the summit, Mr. Tony Rinella delivered a presentation with the theme of Global Collaboration • buildingSMART Metrics Supporting International Practice, sharing observations and recommended next steps with proposed timeline to harmonize and standardize a global buildingSMART Metrics Framework.
Read more details regarding this event: https://www.buildingsmart.org/international-standards-summit-paris-2018/
Inner Mongolia (Horinger New District) of China Intelligent Industry Summit Meeting, Inner Mongolia (January 19, 2018)
Dr. Calvin Kam was invited to deliver a presentation at Inner Mongolia (Horinger New District) of China Intelligent Industry Summit Meeting which was organized by the local government. He was also appointed as an international advisory expert of the new district.
Best Practices Sharing of Standards and Conformity Assessment Implementation on Smart Cities in APEC Region, Ho Chi Minh City (August 18, 2017)
Dr. Calvin Kam, CEO of SBI, was invited to give a speech at the workshop themed Best Practices Sharing of Standards and Conformity Assessment Implementation on Smart Cities in APEC Region sponsored by Asia-Pacific Economic Cooperation (APEC).
The presentation Calvin delivered was titled Smarter Building & Construction for Smarter Cities, aiming to share global trends and insights with regard to design, construction, Standards and interoperability for buildings, measuring and benchmarking the values of homes, buildings and infrastructures for realizing smarter cities.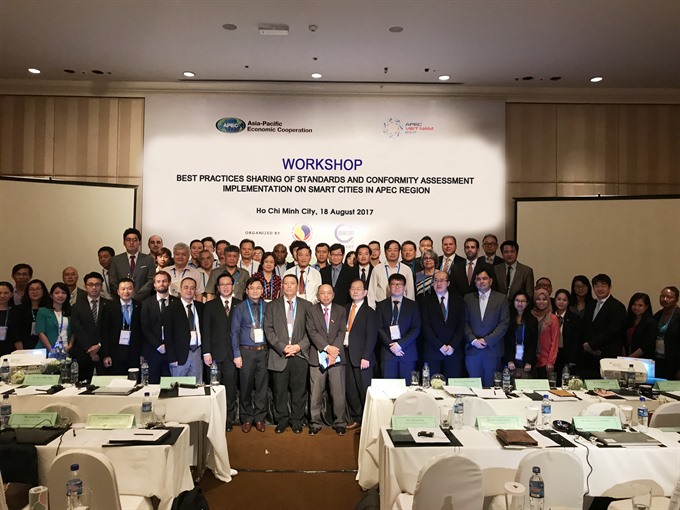 18th Lean Construction Institute (LCI) Congress, USA (October 3-7, 2016)
SBI attended and delivered a presentation in the 18th Lean Construction Institute (LCI) Congress. Read more details regarding this event: http://www.lcicongress.org/
buildingSMART Hong Kong and buildingSMART International Awards 2016
Congratulations to SBI client Tiong Seng on winning both buildingSMART Hong Kong and buildingSMART International Awards 2016 for their groundbreaking use of Open BIM for Construction Management and Cost Control!
For more details regarding buildingSMART International Award 2016, please read:
http://buildingsmart.org/news/awards/bsi-awards-2016/
Past Events
CxEnergy 2016 Conference & Exposition, USA (April 11-13, 2016)
BIM for Facility Management — Case studies demonstrating orderly methods and practical results owners can employ to optimize the value they receive from BIM investments.

While many organizations struggle with incremental experimentation in BIM for FM, some owners develop a comprehensive plan addressing needs as diverse as linkage of asset and facility management data with facility operations systems, BIM library management, and stereoscopic 3D visualization. Lifecycle vision can expand Asset Management / Facility Management BIM programs to improve project design and delivery processes as well as improve performance of facility management functions. Cloud publication methods and libraries can effectively shift the burden of requirements conformance management from the realm of prescriptive legal documents and labor-intensive verification processes to the realm of well-crafted seed objects in design object libraries. In the process, they address issues including publication of design and data requirements, harmonization of international standards with local and protocols, and adoption of best practice standards.

Review of selected owner's odysseys, outcomes, and objective evaluations provide exemplary case studies for facility managers worldwide, recounted in detail for this presentation, enlivened by interactive segments, and punctuated by the presenters' reflections.

http://www.cxenergy.com
Integration Experience for VDC Certificate Program (March 2016)
An invitation-only event associated for participants in the VDC Certificate Program.
Autodesk University, USA (December 2015)
BU11562 - Owner / Operator-Driven BIM Libraries for Project, Facility, and Asset Management ---

This class will present case studies of inventive Building Information Modeling (BIM) approaches adopted by 2 very different facility owners. Each one pushed beyond incremental BIM adoption to rethink workflows, develop BIM object libraries, and transform project processes. See results of their efforts presented from theoretical and practical perspectives. A large healthcare facilities owner integrates BIM libraries and standards throughout the project lifecycle. Their BIM library objects embody design requirements; data management protocols; local/global best practice standards to improve reliability and efficiency of BIM for design, delivery, and facility management with support; and additional capabilities such as 3D stereoscopic viewing, way-finding, and seamless data-sharing with facilities management (FM) applications. An international developer/operator shifts the focus of BIM organization from component-type hierarchies to elements representing installation and construction processes as performed on site, informing better cost and prefabrication analysis. 90 minute Industry Talk
BM11571-R - Target, Track, Evaluate, Benchmark, and Improve BIM Performance of Firms and Projects --- Objective and quantitative performance measurement is increasingly critical to successful AEC firms and their projects, yet executives, managers, and project teams are often unsure about what to measure, and how, in order to proactively monitor performance. With proven methods, international case studies, and interactive exercises, Strategic Building Innovation•bimSCORE (SBI•bimSCORE) will demonstrate the practical implementation of targeting methodologies and key measures of performance developed at Stanford University's Center for Integrated Facility Engineering (CIFE). These techniques have been applied to over 165 AEC projects, adopted by owners, agencies, consultants, and contractors internationally, and proven to provide objective insight informing and justifying management decisions. Though these methods are broadly applicable to many facets of firm and project performance, their application is particularly valuable in navigating BIM and technology adoption decisions. 90 Minute Roundtable
VDC Leadership Program, with Building Construction Authority and Center for Integrated Facility Engineering, Stanford University, USA. (November 2015)
SBI partnered with the Building and Construction Authority of Singapore (BCA) and Stanford University's Center for Integrated Facility Engineering (CIFE) to educate professionals on how best to use and obtain higher value for their businesses and capital projects from the effective use of VDC. To date, hundreds of participants in North America, Latin America, Europe and Asia including Singapore have benefited from the program and led the successful application of VDC in actual practice.
International BIM Symposium, Shanghai (October & November 2015)
SBI organized a symposium for internationally-renowned scholars, designers, builders, and government officials at the Shanghai International Government BIM Symposium held in Shanghai, as part of the "World City Day" event initiated by China's Minister of Construction, the Mayor of Shanghai, as well as representatives from the United Nations, and dignitaries from other cities participating in this event.
International Panel of Experts, Singapore: Local BIM for FM Case Study (October, 2015)
Motivations, Methods, and Metrics resulting from an exemplary and broad-scoped approach to BIM for FM to serve the needs of an owner/operator of public healthcare facilities in Singapore.
Government BIM Symposium, Singapore: BIM Guides for Asia Pacific Economic Cooperation (October, 2015)
Automated Model Checking, USA (September, 2015)
VDC Certificate Program, CIFE, Stanford University, USA (July, 2015)
The purpose of the program is to educate professionals on how best to use and obtain higher value for their businesses and capital projects from the effective use of VDC. Learning Objectives: 1. Guide participants to establish their vision, strategy and implementation plans for VDC in support of business and project objectives. 2. Enable the participants to apply the VDC approach through four key aspects: Building Information Modeling, Integrated Concurrent Engineering, Process & Production Management, and Metrics. 3. Create a collaborative learning environment for participants who are working or planning to embark on VDC implementation. To date, hundreds of participants in North America, Latin America, Europe and Asia including Singapore have benefited from the program and led the successful application of VDC in actual practice.
Walt Disney Imagineering Project Delivery Integration & Innovation Summit, Hong Kong (June, 2015)
Strategic Building Innovation • bimSCORE (SBI) on behalf of Walt Disney Imagineering (WDI) organized an exciting invitation-only one-day event to explore state-of-practice project delivery approaches and to develop a local community of practice to enhance to raise BIM awareness and competencies in the Hong Kong market.
CONTECH 2015 Construction Technology: What owners want + need, USA (May 29, 2015)
This CONSTRUCTION TECHNOLOGY event addresses client needs, field / office technology, cutting-edge workflows, and new cost-cutting + revenue-generating processes through panel-based discussions with well-known figures within the AECO realm. Some topics to be covered include:
- Compare and contrast owners' wants + needs pertaining to construction technology - How some firms are leveraging technology to achieve project efficiency, generate revenue, cut costs, earn LEED credits or analyze LEED status, etc. - Explore some true and false conceptions of BIM / VDC and some amazing case studies to prove them - Explore technologies and abilities that owners now understand and request on their projects; and how this benefits our industry - Companies presenting new AEC Technology that was used on actual projects with case studies - Explore concrete, industry-recognized definitions of BIM classifications through open discussion + dialogue (i.e., single, AIA/NIBS-recognized definition; or break down & define BIM's separate components, not unlike the 'LOD' concept?) - Discuss the early, inaccurate information surrounding certain cutting-edge technologies in our arena. - What does the future of "BIM" look like? http://www.contechevents.com/
AIA National Convention 2015, USA (May 12 - 16, 2015)
WE106 Public Architects: Complete Cycle of Design Excellence Integrating BIM, CMMS, and FM (May 13, 2015)
If you want your designs to be great, you've got to integrate. After all, collaboration is key to achieving design excellence.
From concept to completion, this workshop guides you through the entire design cycle. You'll come away with a well-rounded knowledge of best practices for both private and public architecture, and the ability to create a smoother flow of information between owners, design, construction, operations, and maintenance.
The range of topics includes:
- Recent research and developments in design and construction technology - Technical elements - Program management - Communication and workflow - The importance of BIM data to efficient operations of public facilities
By staying up-to-date on the latest tools, technologies, and approaches, you'll be better equipped to create a cohesive AIA community.
EV112 The Innovation Awards Ceremony and AIA Knowledge Community Networking Reception (May 13, 2015)
The AIA Technology in Architectural Practice Innovation Awards Program recognizes exceptional use of technology in designing, delivering, and managing built structures. The Technical Design for Building Performance Knowledge Community promotes the use of effective technical design for high-performance buildings. Join us for an evening in celebration of the latest awards as well as strengthening and expanding your network by connecting with technical design experts, and other technology and practice gurus.
TH414 Creativity Meets Science: Improving Performance Predictability Through Evidence-Based Management (May 14, 2015)
Big data and business intelligence are the stuff of corporations and tech firms—or are they? Find out why the latest technology is more affordable and accessible than you might think, and how you can apply these powerful tools in your practice to work faster and smarter.
The new generation of designers, builders, and facility owners is already using these advanced, collaborative environments to make better decisions, faster than ever. Find out about the sophisticated analytical tools your firm can start leveraging now—no extensive technical training or massive investments required—to:
- Expedite and improve your business management decisions.
- Streamline process management across all areas of your practice.
- Strengthen quality assessment and control.
- Set strategic goals and link them with measurable outcomes.
Through case studies and interactive exercises, this session will introduce you to strategies and best practices for effectively using today's advanced technologies.
FR304 Celebrating AIA TAP's 11th Annual Technology | Innovation Awards (May 15, 2015)
Emerging technologies are hot topics in every industry. In this dynamic panel discussion, you'll "tap" into innovative resources that can help you improve client engagement, create collaborative workflows, and accelerate your practice.
Now in its 11th year, the AIA TAP Technology | Innovation Awards Program hosts an interactive discussion between attendees and this year's award-winning teams, who will present best-in-class examples from small practitioners up to well-known design firms.
Each of these winning submissions showcases excellence in one or more of the following categories:
- Stellar architecture
- Project delivery excellence
- Sustainable design
- Academic success
Learn from award-winning case studies from the AIA TAP awards' 11-year history. Plus, pick up strategies for innovative technology implementation that you can use in your practice, including tangible impacts and repeatable workflows. Beginner, intermediate, and advanced-level professionals will benefit from this highly valuable session, packed with actionable information and resources.
http://eventscribe.com/2015/aia/aaSearchByDay.asp?h=Full%20Schedule&SDDO=0&t=Full%20Schedule&popup=1
buildingSMART Hong Kong recognized Strategic Building Innovation • bimSCORE and MOH Holdings, Singapore with an International BIM Award. (April 24, 2015)
This project for MOH Holdings, operator of Singapore's public healthcare facilities, provides a full-spectrum Asset Management and Facility Management solution to improve design, planning, cost control, and operation. Key accomplishments include:
- Productivity, reliability, and quality improvements for eight specific use cases. More importantly, this exemplary project represents an innovative BIM for AM/FM solution that actually goes far beyond BIM alone, creating a reliable data ecosystem and integrating an array of standard and customized applications serving many important business needs.
- Transformation of design requirements and compliance management though a design object library and detailed BIM standard facilitating compliance from project initiation.
- Unified database of authoritative enterprise information maintained externally to the geometric model and accessible to multiple users and applications via open standards.
For more information on the award program, visit the buildingSMART Hong Kong website:
http://www.buildingsmart.org.hk/index.php/buildingsmart-hong-kong-international-bim-award-2015-is-now-open-for-application/
ENR FutureTech Conference 2015 (March 16 - 17, 2015)
A Model-Based Approach to the Life Cycle for a Large Portfolio of Buildings (March 16, 2015)
Innovative owners are embracing the value of model-based asset management and facility operations to integrate traditionally-separate functions into a logical and efficient flow from hospital planning through to decades of operations management. Calvin Kam and Tony Rinella from Strategic Building Innovation-bimSCORE will share highlights and objectives of pilot work currently underway with the Singapore MOH Holdings (owners of national public healthcare infrastructure) to test such a comprehensive approach in that country.
New Ways of Re-imaging Buildings (March 17, 2015)
The aerospace industry approaches its most complex rocket science or airplane production projects by managing millions of individual components as a system of "parts", which drives all design, procurement and construction processes. Working with its research partners, Stanford/CIFE is applying this approach by challenging the overall design as a rational system of "parts" so that it can be managed from traditional construction approaches to better align with the manufacturing process. Calvin Kam from Stanford/CIFE will share the early progress of this initiative.
http://construction.com/events/2015/enr-futuretech-sf/
Design[realized] Webinar (March 3, 2015)
Targeting BIM & VDC Success: ALIGNING BIM IMPLEMENTATION WITH STRATEGIC GOALS
Evidence-based best practice standards powered by reliable performance tracking and reporting are transforming many industries and areas of practice today. This seminar demonstrates how a balanced scorecard approach, inspired by original research at Stanford University's Center for Integrated Facility Engineering, is used to effectively improve project outcomes in all phases through quantitative measurement of BIM and Virtual Design and Construction (VDC) implementation performance and maturity. The presentation will demonstrate how to align BIM implementation to strategic business goals for a project, office or enterprise.
http://www.designrealized.com/BIM_Success
AIA National Convention 2014, USA
FR215 Fantasy Meets Science
bimSCORE teamed up with a resort owner and a research center to share experiences supporting Virtual Design and Construction (VDC) on 3 very different projects (a greeting center, a large hotel, and an amusement park ride) and highlight valuable insights into optimizing BIM efforts on projects of all scales. You can read about the presentations through the URLs below:
Read about the session here: FR215 Fantasy Meets Science
AEDIFICE: The Journal of Hong Kong's Construction Industry - Realising the Promise of BIM in Hong Kong Construction Industry (2014)
http://www.hkcic.org/chi/UploadFiles/Aedifice/Aedifice21-May2014/index.html
APEC Start-Up Guide, Building Information Modeling (2014)
http://publications.apec.org/publication-detail.php?pub_id=1510
The Business Value of BIM for Construction in Major Global Markets – background research, commentary and benchmarking on BIM adoption in Asia. (2014)
http://analyticsstore.construction.com/GlobalBIMSMR14
Journal of the National Institute of Building Sciences (US) publication – See the article Using Objectified Measures to Realize the Promise of BIM on page 14 of the courrent journal. (2013)
http://www.journalofthenationalinstituteofbuildingsciences.com/2013/June/index.html
Metrics Measure the Value Gained from BIM - on page 18 in The Business Value of BIM in North America (2012):
https://bimforum.org/2012/12/17/mcgraw-hill-releases-updated-bim-report/
bimSCORE is the "GPS Navigator" for any enterprise or project team charting a course for Building Information Modeling (BIM). Our consulting services have been augmented with a new suite of bimSCORE online and instant-score services beginning late spring 2013.
Four bimSCORE services (Targeting, Express, In-Depth and Workshop) empower project teams and enterprises to optimize the value of BIM with respect to:
• Planning: BIM execution plan, goals, prioritization, contracts, budget, and training
• Adoption: across project stages, among stakeholders, and BIM resource allocation
• Technology: applications, BIM maturity, interoperability, data standards, and levels of detail
• Performance: satisfaction, quantifiable measures, and return on BIM investment
bimSCORE is an interactive and scalable decision dashboard enabling clients to:
•

gain insights from informative metrics and benchmarks
•

explore business impacts of different BIM management scenarios
• use the scientific VDC Scorecard research originated at Stanford University Center for Integrated Facility Engineering
bimSCORE experts offer an impartial and global perspective for:
• evaluation of maturity, strength, and opportunities to continuously improve enterprise and project performance through BIM
• benchmarking projects in comparison with best practices and global industry trends
• advice for project owners and teams to make informed decisions and BIM investments.
Engage bimSCORE now to intelligently and safely navigate through the misconceptions and realities of the BIM journey.