Back to Events & Publications
Published: 2020 May 18
Stay Connected, Not Infected
Amidst the transformation of our social, political, and economic landscape around COVID-19, we can't help but wonder how everyone is adjusting from a predominantly physical world to a virtual one. Despite the abundance of technology surrounding us, we do prefer that warm, human, physical interaction. However, every day as we connect with colleagues, partners, and clients around the world, we are reminded of the ways we can use technology to bring us closer together, and the steps we can take to be more effective when meeting virtually.
At Strategic Building Innovation (SBI), our core operation has always been conducted virtually. We relay work across the globe from India to Hong Kong, London to California as we serve our clients around the clock. This coordination is made possible by technology of course, yet more importantly, by fully-aligned mind-sets. If we can be absolutely honest, we love operating virtually. We appreciate the nature of our work even more now knowing that the pandemic has not interrupted our way of working, and we can continue to seamlessly serve our clients.
While meeting in person may be arguably more effective in some ways, virtual meeting has many advantages. For one, it is the perfect solution during a pandemic — we proceed with meetings without worrying about contamination. Commute time via air, land, or by even foot between buildings or rooms, can be reduced or even eliminated when meeting virtually. Resources can be re-directed to value-adding activities. Shelter-in-place working scenarios also appear to have short-term environmental benefits. The images below show traffic congestion and air quality at a time which traditionally would be severely impacted by the afternoon commute. The abundance of green on these maps indicates open roadways and very good air quality throughout the San Francisco Bay Area, conditions unimaginable 2 months ago.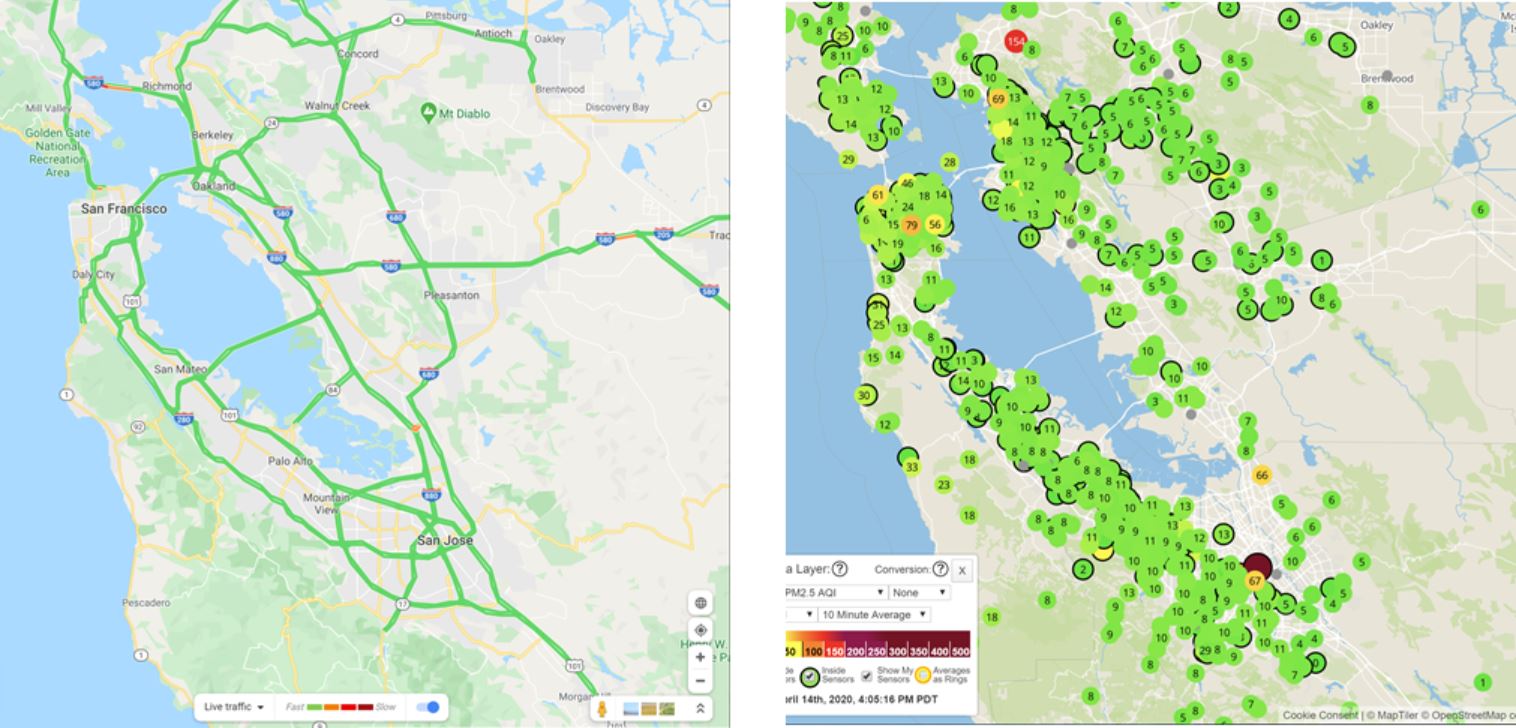 As much as we love virtual meetings though, they do pose a variety of potential challenges.
Here are some of our best practices to overcome virtual meeting challenges:
Create opportunities for networking and ad-hoc conversations
It's not easy to bump into people and strike up impromptu conversations when isolating by meters and kilometers. We create other opportunities for informal interaction like between-meeting channels that might include text & teaming applications. Some people establish set times for video "working sessions" or "office hours" to foster a sense of collegial co-working. Others schedule Social Hours for a small amount of time each day. Impromptu interactions can also be fostered to some extent by opening the meeting channel with a Virtual Lobby before and after the formal meeting times. Consider beginning each meeting with brief, all-inclusive conversation topics like Is the sun shining where you are? or What is your favorite cartoon character?
Dedicate times and virtual work spaces
When we are in an office, we leave our workspace and move to a different space designed for meetings. This helps us "shift gears" into a meeting mode. If we are joining a meeting from home, we're most likely joining from the space where we do our other work — where there are other distractions as well, such as pets, family, household responsibilities, etc. Maintaining the schedule of periodic meetings helps the "gear shifting".
However, remember not to push this to the point of convening unnecessary meetings just to maintain the cadence. In face-to-face meetings, we often set ground rules — this becomes even more important in virtual meetings. Reiterating the ground rules at the beginning of a meeting can also help people "shift gears' into the meeting mode.
Step into the conversation
Unlike a physical meeting where the speaker can see everyone clearly, and invite people with questions or comments to speak, the virtual meeting won't have such benefit. We overcome this challenge by exploring and making full use of meeting app functionalities. For example in the image below, meeting apps like PlanMeetDone allow users to team source inputs and add them to a meeting record that can be circulated as a report or an email after the meeting to keep everyone informed and on track.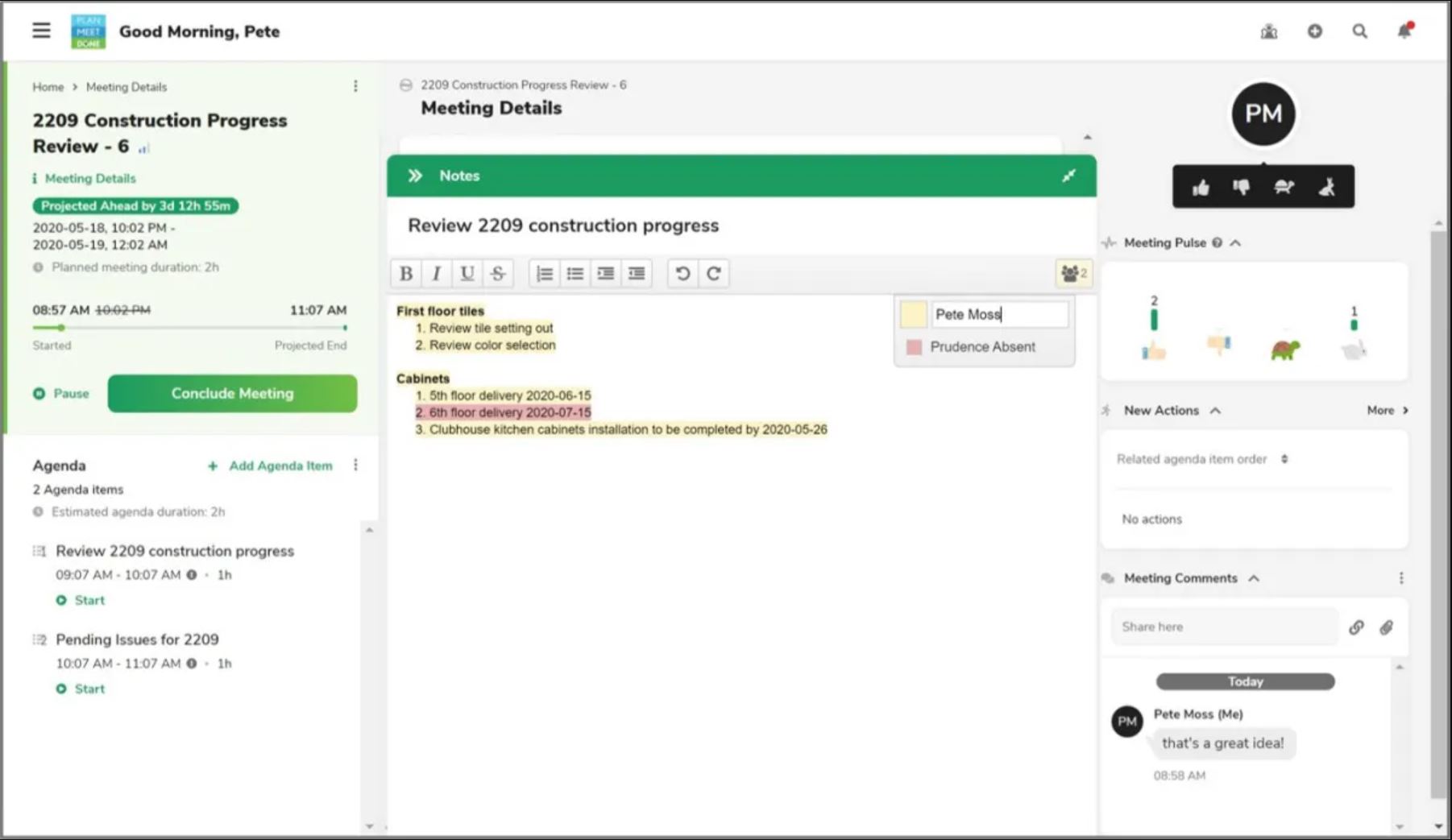 Some meeting apps have chat window functions which allow us to post questions or comments without interrupting the meeting flow. Virtual hand-raising is one of our favorite functions, enabling us to agree, volunteer, or simply signal to the meeting organizer that we have something to say.
Understanding the limitation of a virtual meeting is important. Words form only part of the communication that happens face-to-face. Voice intonation is especially important during a virtual meeting. Polish up your speaking mannerisms by making your statements succinct. Don't run on. Use tone of voice to indicate conclusion of a statement. Direct questions, or hand the baton for further input, to specific individuals. — then stop talking so they can answer.
Engage participants
Without the power of eye contact, we rely on alternate ways to get participants to speak up in a virtual meeting. Good thing we can still call on people during a virtual meeting! Be sure to ask specific questions tailored to the group, and avoid open-ended questions. Craft questions to encourage responses, for example, with a show of virtual hands, who will contribute to the new research project? With that said, it is OK to call on people who have not spoken during the meeting. Other ways to encourage participation include online surveys, typically to receive comprehensive feedback, and quick polls and emoticons to provide immediate feedback.
Identify who's speaking
Voices are sometimes hard to recognize online. Remember to have everyone input a recognizable name to the virtual meeting tool. Consider if phone-only participation is acceptable under your ground rules. If it is, then remember to change "numbers" to "names" — if callers cannot do this, the host can update to the participant list. Identify yourself before speaking, and be clear when passing the baton to another.
Be efficient with the limited communication channels

Invite the right contributors. In advance of the meeting, list the topics to be discussed, and make sure the people necessary to the topics will be present at the meeting. The image above illustrates issues discussed and resolved during a meeting. While two issues were quickly resolved in the first half hour, a whole hour was wasted discussing issues without decision-makers present or sufficient information. If preparation is impossible, postponement may be more effective. Make sure the meeting contributors have clear roles — organizers, presenters, decision-makers. Designate leaders for each topic that you will discuss during the meeting.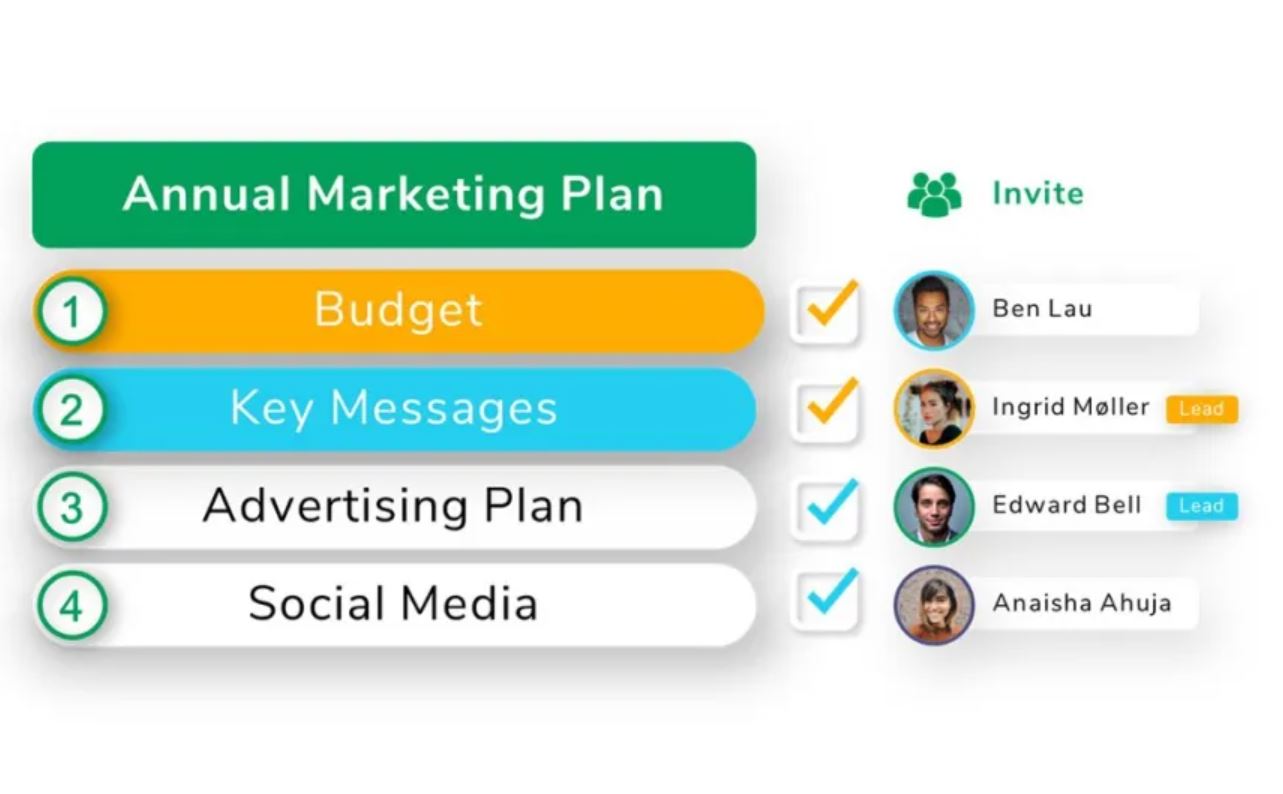 When an issue cannot be resolved, agree to committed next steps to ensure the issue does not lose its place. In the example below, all but 3% of issues have committed decisions or follow-up.
Have patience as traditional leaders learn new online leadership skills; consider if virtual meeting may create career development opportunity for those not usually given leadership responsibilities. Circulate the meeting agenda with topic leaders identified before the meeting. If you are a topic leader, circulate read-ahead and reference material before the meeting so everyone can prepare before the meeting; be prepared to jump in and lead the conversation during the meeting. Participants who will not contribute to the meeting, such as Company L below, can choose to excuse themselves from the meeting when appropriate, and read the meeting report and other exhibits to stay current with progress.
Share drawing boards
Our experience with auditing Client meetings suggest that visualizations, from text documents to 3D models and images, play a significant part in enhancing both in-person and virtual meetings and collaboration.
Technical Considerations
Acknowledge that there are many technologies and situations to coordinate, and many levels of comfort with each — accommodate these. In brief, work out the bugs before the business begins, and don't be the torpedo that sinks the virtual meeting ship.
Leaders: Know what you can control and what you cannot, choose and use technology wisely, and remember, virtual presence is not the same as physical presence. Adapt processes and expectations to match available tools.

Organizers: Prepare for success. Remember to assign a password and have a gatekeeper if possible. If someone cannot meaningfully participate due to technical issues, quickly help the team work around the problem . If that cannot be done quickly, it is better to postpone a topic rather than to waste potentially productive team time.

Everyone: Experiment. If you're not yet expert with the systems, practice with colleagues, friends, and family.
Hybrid Meetings
Hybrid Meetings mix physical and virtual presence to include participants gathered together in one or more conference rooms and may include others participating from individual locations.
Acknowledge all participants by name; the meeting organizer should also be sure all participants are alerted when people join or leave during the meeting.

Use cameras so that all participants can be visible during the meeting; this includes positioning cameras in conference rooms so that all participants can be seen.

Invite input from remote participants (by name); this is especially important if "in-room" exchanges become too dense or heated to allow interjections by those outside the room.

Use screen sharing to share all material "projected" on meeting room screen(s) for all participants to see.

Distribute all documents and reference materials for the meeting in advance so all participants are on equal footing.

Use Polling and Emoticons, mentioned above, plus hand raising features to solicit input from virtual participants
Key Take-aways for Virtual Meetings
Be prepared — rehearse with the technologies

Distribute a clear agenda, documents, and reference material in advance

Select the right people to lead each topic

Agree on ground rules

Do not let technologies impede meeting progress

Speak clearly and succinctly, don't run on

Stay on topic

Use tone of voice to indicate conclusion of a statement

Avoid speaking over one another

Recap decisions and action items
Useful Virtual Meeting Technologies
Microphone

Camera

Screen Sharing

Chat / Instant Comments

Persistent Collaboration Environment, Shared Documents

Instant Polling to maintain engagement

Survey
So, what will you do differently for your virtual meetings starting tomorrow?